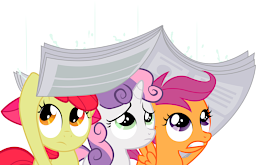 The Cutie Mark Crusaders have received the news of the arrival of a new, disabled, addition, to their class. The three fillies are ready to accept him and his disability... however, the schoolcolt's response might be not what they expected.
Additional Tags: Parà Oidìa; Anti-Gurgle.
---
The credit for the OC Shy Flames going to my equal ally and respectable writerShy Tye.
Chapters (2)