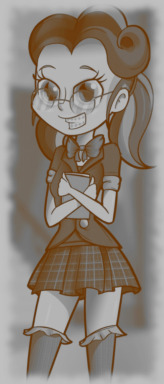 Source
With the Friendship Games having come to an end, peace has returned to Canterlot High. The aforementioned peace has been accompained by a pressing question.
"Why did Principal Cinch chose to strenghten her legacy in a way that put one of her students' life in danger? What brought her to such perfectionism and harshness?"
According to some of the Rainbooms, the answer is contained inside Principal Cinch's house. And so Pinkie Pie and Rainbow Dash are sent to investigate on Abacus Cinch's house, while she is away from home on a self-proclaimed "recovery holiday".
The answer, however, isn't quite what the two girls expect it to be.
Chapters (1)