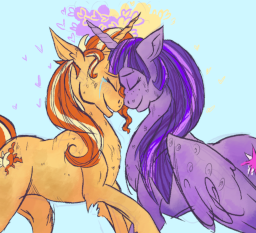 Source
This story is a sequel to Put a Ring on It
---
It's the anniversary of Twilight Velvet and Nightlight, and to celebrate the family is gathering in an expensive hotel in the resort destination of Tall Lake: Shining Armour and his wife Cadance, Twilight Sparkle, her adoptive brother Spike; and her marefriend, Sunset Shimmer. Sunset hopes to make a good impression on Twilight's parents, so that she can get her blessing to ask Twilight's hoof in marriage.
But matters are complicated when Sunset befriends a young mare named Summer, who possesses the unerring ability to tell truth from lies, and who delivers a grim verdict: Sunset does not love Twilight. Sunset is thrown into doubt over her feelings, and at the worst possible time; for Tall Lake is not only a popular tourist destination, but also a hotbed of crooks and spies, with danger and excitement around every corner - and Twilight risks being caught in a web of deception and villainy.
Sunset will need to reach out to an old enemy, as well as a shadowy figure from her past, if she's going to fight for her love and win.
If, that is, Twilight really is her love, and she isn't fooling herself?
Adopted from Scipio Smith on 7 December 2019
Chapters (6)