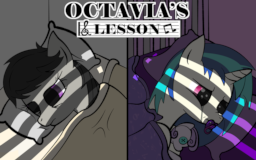 Source
Warning: This story contains diapers, diaper usage, and AB/DL themes. If these do not appeal to you, then please do not read any further.
As a result of the events of the Grand Galloping Gala, Octavia has been left stressed. As a result her professor has sent her to study from a former student of his.
This has been made all the more difficult thanks to Octavia's old problem returning, and the secret motive her new mentor is trying to conceal.
The mad man himself Lphooves, once again provides me with his artistic style for my cover.
Chapters (10)