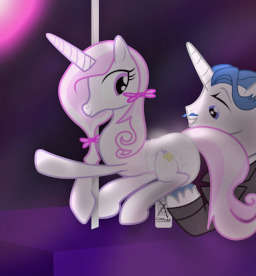 Source
Warning: This story contains diapers, diaper usage, sexual themes, and AB/DL themes. If these do not appeal to you, then please do not read any further.
The Canterlot Diaper Club, restricted to the elite. What occurs behind its doors is something special. Tonight a well known stallion pays a visit to this club. As he traverses the walls of this establishment he submits himself to the truth of his character, as taboo as that may be.
***
Once again I tricked a drunk Lphooves into drawing diaper art,
sadly I forgot I had also agreed to write something on it...
So go and harass the sober guy here.
I want to thank all of crinkleponies for editing.
And making me question why the hell I keep agreeing to doing this stuff.
Chapters (1)