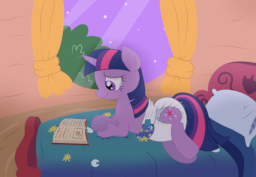 Source
Twilight Sparkle has always been something of a perfectionist. Sure, she enjoyed making lists of things and kept everything in a neat and tidy order, but that didn't mean that she had a problem. For most of her life, she didn't, but sometimes small quirks can evolve into things far worse and suddenly the order has to remain exactly as it is, never changing. Suddenly, Twilight finds herself thrown into unknown territory as she tries to uncover a solution for an illness that ponykind never really bothered with and she has to deal with herself: An Obsessive Compulsive Disorder.
She finds herself drifting farther away from her friends and seeks solace and healing in something different, as she discovers infantilism for herself. Not everything goes perfect for her, as the relationships she has built over her time in Ponyville are put to the test and she has to deal with her own issues.
It all starts with a moment alone, a moment without books as she suddenly finds herself on a journey to discover who she is and why she does things her own way. Twilight is intent on not letting the world get to her and between her coming to heads with her friends and learning to deal with both her desires and problems, a cold winter approaches, bringing with it the greatest challenge yet.
---
Coverart by: fillyscoots42
---
Chapters (10)