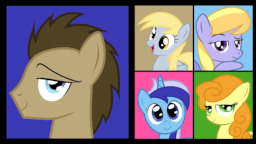 Back home from a weeklong trip, Time Turner finds Ponyville in the grip of the post Hearts and Hooves day "new love" phase. New relationships between couples have been forged, and anypony still unattached will be looking for their own special someponies.
It's kind of annoying really. As soon as ponies see a relationship bloom they want to find somepony for themselves, and right now those ponies are searching for all the wrong reasons.
Time Turner doesn't want to get involved, he'd rather relax for a while and recover from his latest "business" trip. The all-powerful force of love can go bother somepony else, thanks.
Love can be avoided, especially if you're a literal time turner, but occasionally that's not enough.
Part of the Winningverse and preread by Chengar Qordath, JJ GingerHooves, Ponibius, Web of Hope, and 621Chopsuey.
Cover Art Sources: Turner, Carrot, Colgate, Cloud Kicker, Derpy.
As a note: I'm reliably informed the first chapter starts off a little dull, and that generally the story really hits its stride in chapter two.
Chapters (12)