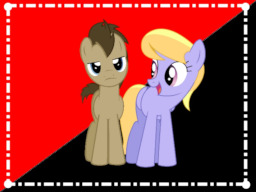 Time Turner has a plan. Go to Los Pegasus, enter a poker tournament and win money. It's a good plan if you intend to cheat your way to victory. But this tournament also has other ponies willing to cheat as well, and they're not going to give up that prize easily.
Then there's another wrinkle in the grand plan. Cloud Kicker is also on her way to Los Pegasus in search of fun, and she's found somepony interesting to follow. Somepony she still hasn't crossed off her 'To Bang' list.
Despite his objections, Time Turner will need her help; because Los Pegasus isn't an earth pony friendly city. The seats can't be sat on, the storm cloud oven wants to electrocute him, and it's a long way down if you decide to step outside.
Set in Chengar Qordath's Winningverse as part of The Cloud Kicker Fan Club and Winningverse Group's anniversary month.
Chapters (4)