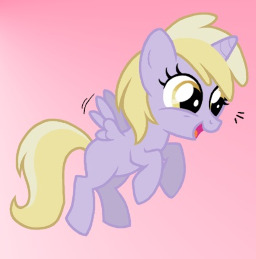 Source
'Nothing acts that cute without some ulterior motive.' — Lord Nibbler of the Nibblonians.
Dinky Doo melts ponies hearts and hugs everything wherever she goes. Normally this is limited to scamming sweets from adults and convincing ponies to lose at battleclouds, but It's only a matter of time before she uses her adorableness to achieve her true destiny: Enslaving Equestria to fulfill her every desire.
By mere chance, Octavia has resisted the filly's siren song. Together with her old friend Vinyl, they must survive as the only sane ponies in a world gone mad.
---
Prereaders Include: Chengar Qordath, Luminary, Ponibus, and Web of Hope
Cover Art acquired from Flausch-Katzerl's 'Fitting In'
While peripherally related to the Winningverse, and part of their AU month, this is primarily a standalone story. All you need to know is that Dinky is cute like a baby harp seal.
---
I'm also pleased to say that this story has been approved by Twilight's Library. I'm quite proud of that.
Chapters (4)