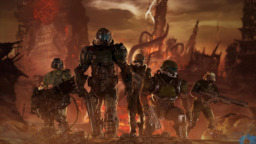 This story is a sequel to Guardian
---
Oh holy Seraphim, firstborns of the Light, keepers of heaven, earth, and the souls of men. . .
hear thee now, the words of our final oath. . .
On the day when evil should darken the skies of paradise.
On the day when all hope has fled.
On the day when wisdom, love, and friendship are not enough.
On that day when you are most alone.
Call to us.
On that day, when the shadows lengthen, and when despair eclipses all light, WE shall hear you. . .
Where wisdom falters, we shall bring destruction.
Where compassion fails, we shall bring ruin.
Where hope dwindles, we shall bring wrath.
And where evil treads. . . we shall bring death.
This we vow oh Seraphim. . .
For our number is Legion, and our name. . . is DOOM.
Chapters (9)