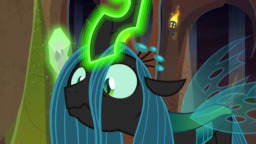 This story is a sequel to Five Weeks Of Deliberation
---
The Everfree Hive rises high above the landscape, leaving much of the forest in shadow. With her city thriving, and her changelings growing in number Chrysalis aims higher still. Unfortunately for her, Celestia has other plans.
---
Check out the first in the series, here!
This was a request for a patron and was viewable earlier for said patrons. Head over here if you want a story like this for 5$ or to see stories early for just 3$!
Chapters (2)