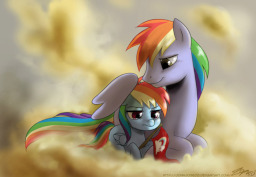 Source
Rainbow Dash stands atop her father in a crowd full of pegasi. Massive anticipation lingered in the air. The little filly was certain Cloudsdale would get to host the Equestria games.
But what happens when they don't? What will a father do to comfort his crestfallen daughter whose hopes were shattered in a matter of seconds.
Takes place during and after the flashback from the episode "The Games Ponies Play"
Cover Art by John Joseco
Story Idea Based on Fic by: Colt in the Moon
Chapters (1)