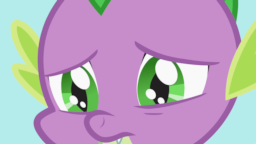 After her face and body are permanently scarred, Rarity seals herself off in her room with the lights off and drapes drawn, too disgusted by her own appearance to be seen. The only comfort she has comes in the form of daily visits from Spike, though she keeps the room dark to hide her deformities from the baby dragon. Can he convince her that she has nothing to fear; that her beauty is not limited to what she looks like?
My entry for the Feature Box Crusaders' Contest due on March 20th.
Thanks to BubblepipeWrangler for the initial story idea, and the help writing and editing it.
Additional thanks to: Twi-Guy and Featherprop for their help with the editing.
Chapters (1)