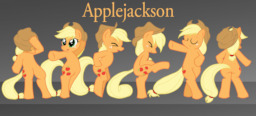 Source
While cleaning up Pinkie Pie's room after an unfortunate baking experience, Applejack finds the pink pony's "Nightmare Night" CD and, out of curiosity, decides to play it.
This results in the orange earth pony embracing her true swag.
Based on the picture "Applejackson" by Pyruvate: http://pyruvate.deviantart.com/
I don't own "Thriller" by Michael Jackson, which was chosen due to the proximity of Halloween.
Chapters (1)