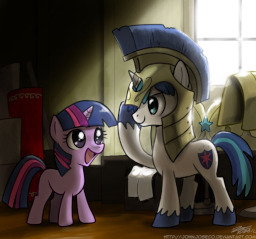 Source
Shining Armor wants to know what his parents mean when they talk about his grandfather's "legacy". To do so, he ventures into the nearly untouched attic of his house.
Will he find the answer to his question?
This story was inspired by the cover image and the short blurb below it, which was done by johnjoseco over at DeviantArt: http://johnjoseco.deviantart.com/
You may not ever see this, but thank you, johnjoseco, for making such a great image that inspired this story. You deserve far more credit than I do.
Chapters (1)