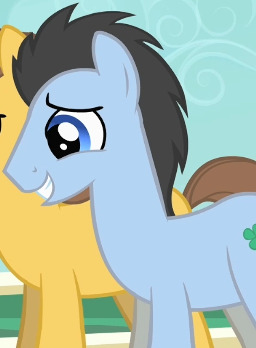 Source
Naturally, most would think that having a destiny of good luck would be something wonderful. Who wouldn't love winning every competition? Who wouldn't love never having to worry about finding a job? Who wouldn't love to have everything handed to them without having to work at it?
One pony would beg to differ with this sentiment. Lucky Clover is a colt that has lived such a life, a life that has become more of a curse than a blessing. What once seemed to be great has turned into a nightmare, for being lucky all of the time does not necessarily mean life will be a simple trot in the park. On the contrary, it can present challenges that most would never face.
[A/N] I think I might have seen a story like this before, centered on a pony with perpetual luck, but I've decided to roll with this idea and give a story (with some background) to one of the most under-represented background ponies in this fandom.
With that said, I hope you enjoy. :)
Edited by: Twi-Guy
Story Slightly Inspired by: Every Thorn Has its Rose
Chapters (1)