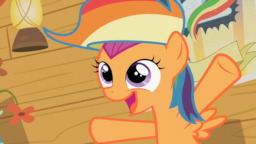 Source
Rainbow Dash wakes up to discover that something very important has been taken from her, something noticeable and humiliating. She tries to sneak into town without being noticed.
When her ailment is discovered by the Cutie Mark Crusaders, a certain orange pegasus helps Rainbow Dash discover that sometimes the greatest generosity comes in the smallest of packages...
...or so she thinks.
[A/N] This is random as hell. I hope you enjoy. And yes, the title is a pun on the book "The Ox-Bow Incident" by Walter Van Tilburg Clark.
Chapters (1)