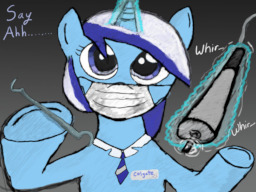 Source
During Luna's banishment to the moon, there have been a great many advances in medical practices and technology, one of which being the field of dentistry. Being the devoted and loving sister that she is, Celestia has taken it upon herself to make her sister an appointment with one of the most skilled dentists around, Doctor Colgate! How will Luna's first cleaning go? Will she have any cavities? Gingivitis? Or, Celestia grant us strength, will she need braces? Will Honor Bound and Razor Edge be able to keep their princesses in check? Will Equestria ever be the same again?
I came up with this idea after visiting the dentist after 2 years of not going due to lack of insurance and found out that I had the startings of gingivitis and got to wondering what it would be like if Luna went after her time on the moon.
Many thanks to evenfall369 and kosherpickle for their help in editing this story and helping me to fix all my derps
MLP:FiM is property of Hasbro, The HUB and Lauren Faust. Honor Bound and Razor Edge are OCs of my design, and the fic artwork was made by DeJiKo07 on DeviantArt
ENJOY!!!
Chapters (1)