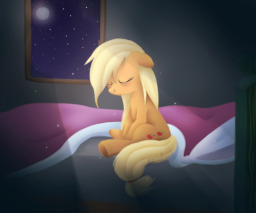 Following the most recent Apple Family Reunion, Applejack finds herself alone in her room with much on her mind. With the star-filled sky as her only witness, she finally has a chance to open up to the two most important ponies in her life: her parents.
Story in Russian: Here!
Special thanks to:
Brony Assasin
Mr. Carnage
Silbern
professorriversong
And this song: Re: Stacks - Bon Iver.
Chapters (1)