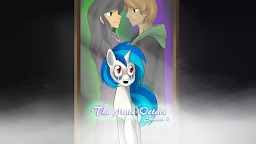 Season 1: November 28, 2012 through January 1, 2013
Season 2: February 24, 2013- February 23, 2014
Season 3: To be announced sometime in 2014. (well before Half-Life 3)
credits go out to Marik_Azemus for the amazing cover he drew for the first season of the story and SuperBigMac for all the help he's given with writing this intricate idea. I'd also like to thank my friends and you the fans for all the amazing support!
Henry was like any average person, content, happy, and always looking for the brighter side of things... Until a traumatic event tears him apart from the very core, changing every facet of who he was and could have been. Years passed and his condition never truly improved, even when he moved out of his parents home, a place with nothing but dark memories and empty promises. Despite that, he's tried his hardest to stay strong as he works towards his major in Music Arts, regardless of the disadvantage his condition creates for him.
A fellow musician renowned for her many concert performances literally stumbles into his life and begins to show a different side of what it means to live. Can she help pull him from the shell he created around himself and teach him to be true to himself or will the weight of the world be too much for him to bear?
Chapters (14)