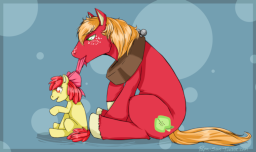 Source
But she doesn't care.
A short tale about Big Mac and Applebloom. Nothing too spectacular, but I hope you like it. Takes place a couple of years before the start of Season 1.
Special thanks to Inumaniac for being my proofreader once more. The amazing cover has been done by PapaSam. Used with permission.
Read the polish translation here, courtesy of Dolar84
Reading here, done by HeySagey; and here done by TheArchitect
Chapters (1)