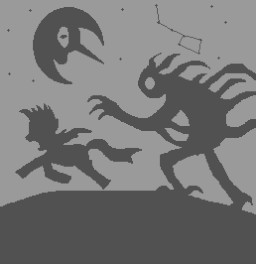 Another stupid story of mine. This one isn't even funny. I'm sorry.
Synopsis: In one of Pinkie's parties, Rainbow Dash tells the story of a strange mytical monster which is said to wander around Ponyville, haunting ponies when they are all alone. Twilight, of course, doesn't believe a word.
--------------
Labeled as 'Random', because it's the most similar to 'Weird', which I think would be a much accurate classification for this silly story.
Special thanks to Inumaniac for being my proofreader and helping my to create the "remastered" version.
Read the hungarian translation here Courtesy of Silence the Unicorn.
Chapters (1)