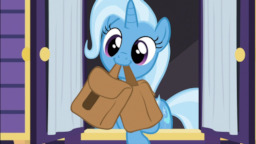 Source
Amanda was never a very popular girl. She was always too strange, too eccentric, and her obsession with a TV show from years ago certainly didn't help. She lived a fairly bland, lonely life, but she never would have said she was unhappy if you asked her.
That all changes when she wakes up to find herself transported into that very TV show. And she's not just in Equestria; She's at the start of it all, the very first episode. Knowing she can't afford to let the opportunity pass, she leaps into action, ready to join the adventure and help the Mane 6 along their journey!
Things rarely go so neatly, though, and before she can even meet Twilight, she runs into a pony who, by all accounts, shouldn't be there. Trixie is in Ponyville, and she can't believe what she's hearing. The story is just too unbelievable.
How could she be a villain?
Sucked into a reluctant alliance, Amanda—now a pony going by Starfall Sage—must try to steer Trixie towards a good ending, but as she'll discover, that's a lot easier said than done.
Chapters (15)