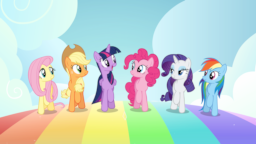 Source
This story is a sequel to Desperate Devotion
---
One of the most common things asked after any story is "Well, what happened next?" It's an understandable desire, especially with light, fluffy stories. You've seen this important moment in the characters' lives, but what about the rest? How do they spend their regular days?
Well, that's more or less what this is. It's a collection of short, slice of life stories all set in the same "canon," so to speak. One world, one set of characters who grow and change as the stories go on.
Things start around season 7; think post-castle, but pre-school, with some slight alterations to characters' relationships. It's just regular old Ponyville. No grand machinations, no impending doom, just a group of friends living their lives.
For the sake of neatness and ease of access, all the stories will be found right here. You can jump straight into chapter 1 and not have to worry about missing anything. The parenthesis after each chapter title shows who I feel are the most prominent characters in a story. It's not always romantic.
Chapters (18)