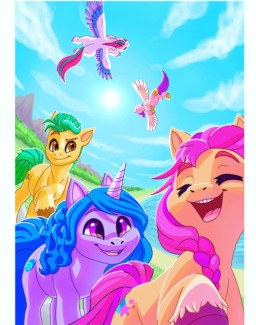 Source
Two weeks have passed since Sunny convinced the pony races to work together. Two weeks since magic returned to Equestria and ponies began learning about friendship.
Now, a strange weather phenomenon calls for an urgent meeting, and the five friends, along with every pony in Equestria, meet a pony that came to answer some questions and kickstart a new adventure. Turns out, activating the three pony crystals was just the beginning and there's a lot more to do.
As they travel to complete their quest, they will meet new friends and new dangers. Turns out Ancient Equestria was a lot more dangerous than they thought.
---
This is my first adventure fic! Any and all feedback will be greatly appreciated!
Proofreading since chapter 2 by Arbarano.
Cover art made by whizmi. This is temporary while I get a new cover art. I can't draw ponies to save my life, so I'll be looking for an artist.
11/11/21 - Featured! Holy wacamole! Thanks a lot!
Chapters (5)