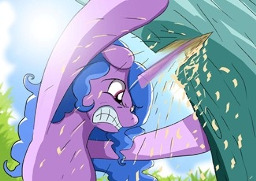 Source
Inspired by the fanart Izzy
By neo-shrek
With the lighthouse fixed and everypony spending some time together, Hitch asks are peculiar question to Izzy about what happened on their quest. This leaves Hitch, and the others, maybe regretting asking that question in the first place.
Big thank you to StraightToThePointStudio for reading this story


Uni-Pecker by StraightToThePointStudio
Second G5 fanfic! Hope you all enjoy this light one.
Chapters (1)