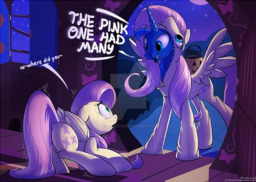 Inspired by the artwork The Pink One Had Many
By artist Littleivy25
It's Nightmare Night and Fluttershy wants nothing to do with it. She has a quiet spot under the bed ready and she just wants to crawl under it and read with her critter friends. Unfortunately, some pony in the middle of the night has a surprise in store for her.
A One-off quick idea that came to me, looking at art on my DA account.
Thank you once again to StraightToThePointStudio for an amazing reading
Blame the Pink One by StraightToThePointStudio
Chapters (1)