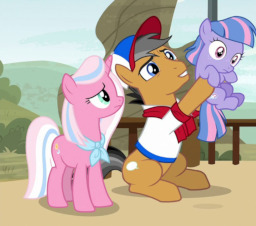 Source
Quibble Pants just wasn't cut out for fatherhood. But now his relationship with Clear Sky is getting serious, he really hopes he can hit it off with her daughter Wind Sprint. But it's much more complicated than just a game of buckball.
This is a alternating POV story featuring Quibble Pants and Wind Sprint.
Somewhat related to the events in the episode Common Ground, but you don't have to have watched the episode to understand what's going on. Minimal spoilers.
Chapters (1)