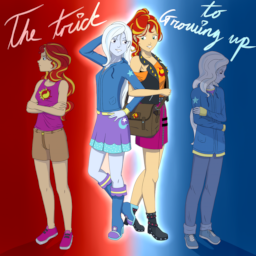 Sunset Shimmer, prized pupil of Princess Celestia, has taken the most brash decision of her life. She will now have to live in the human world for years before being able to return. Fortunately, she has the help of some natives to endure this experience.
---
Fair warnings:
This is a different take on Sunset's story pre Equestria Girls, where things happened differently. This story will contain Sunset exploring everything she possibly can about the human world, leading to subjects some might find uncomfortable. So you have been advised.
There is no sex in this story, but there will be talk about sex, although it'll be later on. Nudity will be common but not in sexual situations (at least not early on).
This story will also deal with bullying, but not too dark.
I will appreciate greatly all forms of feedback :3
Chapters (13)