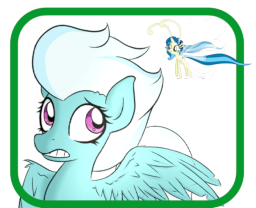 Source
Being the most senior Wonderbolt now that Spitfire has retired, Fleetfoot is the one who gets the final say in which applicants get accepted as cadets. It's a pretty cut and dry job; either the pony she's evaluating meets the flight skill requirements, or they don't.
Or they're not a pony and the only thing Fleetfoot has to go on is her gut.
---
Cover image is just some vectors I found because unlike most of my other fics, this one wasn't picture prompted. It was a one sentence prompt from Nitro Indigo saying "A nonpony joins the Wonderbolts."
Chapters (1)