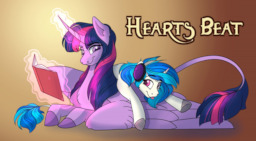 Source
Twilight Sparkle is not a risk-taker. She prefers the same old books in the same old library drinking the same old tea with the same old ponies. And that's okay!
On one fateful night, however, Rainbow Dash drags Twilight out on an adventure! Her very first rave.
It turns out Twilight isn't the only one hiding in a corner at these things.
---
This fiction was written as part of a challenge to write a fic in 30 days: one chapter per day, 2k words per chapter (you can learn more about it here!). However, this fiction will still be undergoing edits now that the challenge has ended. It currently has many many typos and errors, as it is literally unedited and was largely typed on a cell phone with gratuitous autocorrect--no need to point this out to me, I am very aware!
The original version is being preserved in Google Docs. I'll likely be posting the links to the original docs in a blog post sometime soon!
Chapters (30)