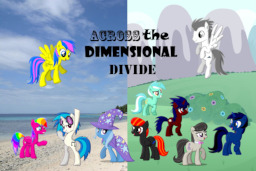 I have just fallen victim to an accident involving dimension travel. Now I am a pony, living a life similar, yet vastly different from my old one. I'm being thrown into adventures, though they may be just ordinary days. It's crazy when you think about it. Between meeting old and new friends, figuring out what happened to send me here, and uncovering a hidden secret involving the ponies of this realm, I've got my hooves full.
I just want to go home. Someone, please help me.
---
Written, proofread, edited, and cover by myself.
Chapters (21)