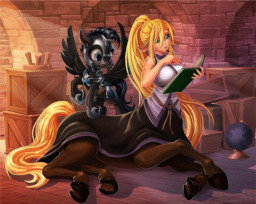 Source
It had been hard enough, being one of the first. With the walls dropped, leaving her nation, her herd, traveling to Japan and trying to exist among so many strangers... every day had been a challenge. But she'd tried. Day by day, hoofstep by hoofstep, she'd felt she was finding her place in the human world.
But now there are no humans. No other demis or liminals. Nothing to anchor her. She exists among tiny horses and the scent of their fear, or at least what little of it drifts into her cell.
For nopony can look at a centaur and see anything but a monster.
(Now with author Patreon and Ko-Fi pages -- and the TVTropes page just went live.)
Cover art by Harwick. Please contact him for commission rates & prints.
Trigger warning: character interpretation.
Chapters (100)