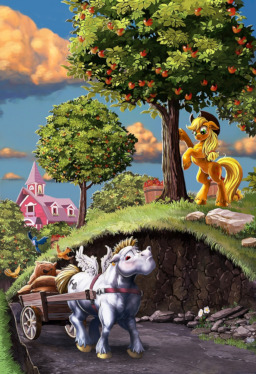 Source
This story is a sequel to Triptych
---
For Applejack, the Bearers' most recent adventure had consequences. She was the first in her family to break the Secret. She volunteered to become Twilight's teacher for earth pony magic. And with the chains of tradition still falling away, she did something else. She asked Snowflake to go out with her. To see if they were compatible. If it was possible for love to appear. Whether they could take the first steps together on a new road.
But Apples go out with earth ponies. The line marries pure.
And it won't be long before the rest of the family starts to find out...
(Part of the Triptych Continuum, which has its own TVTropes page and FIMFiction group. New members and trope edits welcome.)
Now with author Patreon and Ko-Fi pages.
Chapters (22)