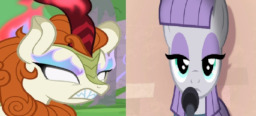 Maud is the reigning champion of stand-up comedy in Equestria. But, with the discovery of the kirin village comes a new challenger to the forefront: Autumn Blaze.
How will things play out? Not well.
---
Collaboration with Alex_. Thanks bro!
Takes place after "Sounds of Silence" so, you know, there might be some spoilers.
Chapters (1)