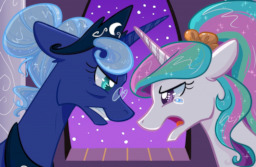 Being seventeen is hard--especially if you happen to be a Princess.
I'm Princess Celestia, but everyone calls me Cece. My life has been crazier than normal lately--my big brother Blueblood is a selfish jerk, my best friend Twilight just moved away to Ponyville, and, oh yeah--Nightmare Moon turned out to be my long-lost somethingth-Great Aunt, Princess Luna. No biggie.
But, no matter how my life is going, I'm still Princess. I've gotta keep it together. Somehow. I can make it at least until the Grand Galloping Gala in a month-and-a-half... right?
A new AU, Season 1 AU, in which Celestia is mortal, and the same age as Twilight. Keep reading for shenanigans!
Rated Teen for brief-but-strong language in later chapters, and some crass dialogue. Otherwise, it's a pretty "soft" Teen.
As always, this story is written and edited. New chapters will post every morning until completion.
Edited by Eruantalon and Orsuros.
Cover art done by LeafBunny!
Chapters (32)