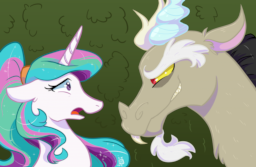 This story is a sequel to Celestia XVII
---
I'm Princess Celestia XVII, Equestria's sixty-third Princess of the Sun. I'm twenty years old. My friends call me Cece. And my enemies... well...
Things had been going so well--up until a month ago, when the Changelings attacked. Now, I can barely close my eyes at night before I wake up screaming. And Twilight Sparkle's been acting wierd, too--she and I used to be best friends, but now she's mad at me, and I don't know why...
Plus, strange things have been happening, all over Equestria. No one can explain them, but I get the feeling that something big is coming, just over the horizon...
The long-awaited sequel to Celestia XVII!
Rated Teen for some innuendos and occasional, harsh language. Better safe than sorry, yo.
Story is written and edited; new chapters will post daily until completed.
Read and edited by Eruantalon, Crack-Fic Kai, and Soge. Thanks guys!
Cover art by the inimitable LeafBunny!

Chapters (36)