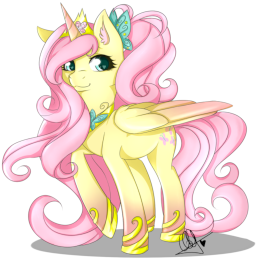 Source
Princess Fluttershy, Princess of Kindness and sole ruler of Equestria, has a visit she must make. A visit to an old friend, and an even older enemy. A visit that will leave her questioning the very meaning of Kindness itself.
An entry in FanOfMostEverything's Imposing Soverigns II contest. The prompt was "Fluttershy: The Princess Herself."
Preread by Chinchillax, Cosmic Cowboy, and Matt.
Peaked at #2 on the featured box!
Chapters (1)