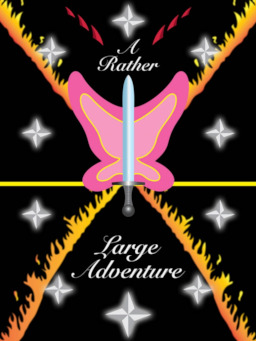 Source
After rescuing an incapacitated Twilight Sparkle from the dark clutches of fearsome demons, three warriors of Princess Celestia become close friends with the six Elements of Harmony. During their newfound friendship, they uncover dangerous and fateful secrets about everything they once knew about the Elements of Harmony.
However, that is only the beginning of a rather large adventure to decide the fate of the world. For the king of Tartarus, with his howling demons at the ready, will seek out the destruction of the entire world, and claim it for himself. And only one thing will stand in his way: the Elements themselves.
From the darkest caves to the highest skies to the deepest depths of the ocean, in storms, battlefields, mountains, and Tartarus itself, the ponies must push themselves towards their inevitable, eternal destinies.
Takes place right after season 6.
Part one: Red Tower Rescue, chapters 1-14
Part two: Laying Foundations, chapters 15-22
Part three: The Unveiling of the Warrior, chapters 23-30
Part four: The Call, chapters 31-38
Part five: Seeing Double, chapters 39-47
Part six: Courage, chapters 48-52
Part seven: Sacrifice, chapters 53-59
Part eight: Honor, chapters 60-69
Part nine: Blood and Ash, chapters 70-80
Part ten: Into Darkness, chapters 81-91
Part eleven: Into Light, chapters 92-95
Chapters (103)