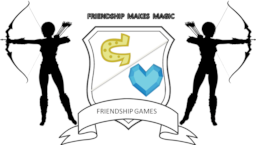 This story is a sequel to Rainbow Rocks: Friendship Makes Magic
---
It's that time of the year when Canterlot and Crystal Prep face off in friendly academic events: the "Friendship Games." But this time around, the drama and the tension couldn't be any higher.
A few months ago, Twilight Sparkle was a student at Crystal Prep and now she is a student for Canterlot High. Old relations will rise up to the surface and old acquaintances will collide with the present friends. Meanwhile, Crystal Prep has a certain ace up its sleeve that sparks a certain conflict with Sunset Shimmer.
But as the games will be happening, a certain darkness will slowly emerge and brings all new trouble to the games.
Chapters (14)