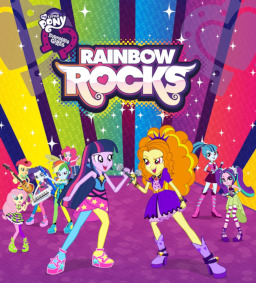 Source
This story is a sequel to Equestria Girls: Friendship Makes Magic
---
In an alternate universe, Human Twilight Sparkle tranfered to Canterlot High. during the first movie and taken Pony Twilight's place. After a crazy andventure where she made her first ever 6 friends (one in which came from Equestria and was an ex-villain), Twilight has gotten use to and is loving her new school life.
However, before the upcoming event that is the school's music festival, 3 mysterious new transfer students had appeared and is somehow manipulating the student body to be angry at each other. And to top it off, Twilight discover that her and her friends still retained their magical powers that they got during their last magical exploit.
Can Twilight protect her new school? Can she get the hang of her new powers? Will Sunset Shimmer fall back into a villain? And can Twilight find the magical voice that she has deep inside her?
Chapters (15)