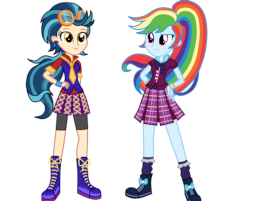 Two schools: Canterlot High and Crystal Prep. One is carefree and lively, the other is more series and strict. While both schools are fair on their students, let see what happened if one student from each of them switch places.
Rainbow Dash and Indigo Zap, to competitive teenage girls who love sports and showing off how great they are. Even though they haven met, they would find they might have a few things in common.

But when they try out for their school's soccer teams, they will find out that playing sports isn't just about being the best.
Art by Mixi Pie
Chapters (2)