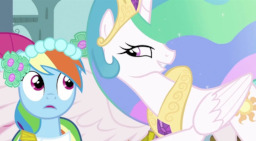 This story is a sequel to You're a Lesbian, Spike!
---
After a night of drinking, Rainbow Dash managed to convince Spike he was a lesbian. The morning after, she received a summons from Princess Celestia to explain the whole situation.
Rainbow Dash was convinced she had the correct answers ready for the occasion. Yet what happens, when the Princess asks the wrong questions?
Warning! Contains suggestive topic references of sexual nature.
Reading by ScarlettBlade (Thanks, Captain! )
Special thanks to Octavia Harmony for editing.
Chapters (1)