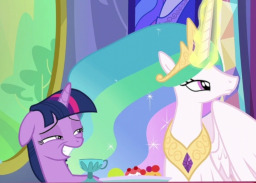 This story is a sequel to You're NOT a Lesbian, Rainbow Dash!
---
Displeased at the chaos that their lack of basic sexual education has caused, Princess Celestia teleports Spike, Rainbow Dash, and Twilight Sparkle to her throne room to have a few words.
Unfortunately, Twilight manages to derail the conversation with something she sees as being of far greater importance.
Warning! Contains suggestive topic references of sexual nature.
Special thanks to Octavia Harmony for editing.
Chapters (1)