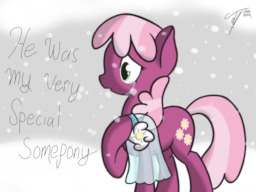 Source
Hearts and Hooves Day was a whirlwind, especially for Cheerilee and Big Macintosh. They remained friends in wake of the fiasco that almost ended in hasty marriage, and Cheerilee never gave their friendship any further thought. They were just friends, nothing more.
However, when she learns of Big Mac and Marble Pie's fling over the Hearth's Warming holiday, Cheerilee begins to dwell upon her friendship with Big Mac. Could there have been something more to their relationship that she hadn't realized before?
After all, hindsight is 20/20.
---
Edited by Lord-Commander and Kestrel
Pre-reading by FamousLastWords
Cover art made by the talented Coffee Munch
Takes place in the same universe as Learning Curve. Familiarity with that story is not required, but I do recommend it!
Reviews!
Seattle's Angels
PaulAsaran
PCaRG
Chapters (5)