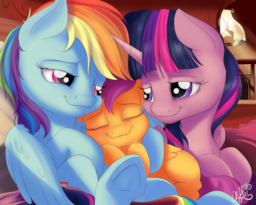 Source
This story is a sequel to I'll Always be Here for You
---
A budding love, a new family.
Rescued from her horrible parents by Twilight and Rainbow, Scootaloo begins a long journey of recovery from the years of mental and physical abuse. Now Rainbow's and Twilight's adopted daughter, she looks forward to what the future has in store for her. However, Scootaloo's happiness and her life are at risk now that her parents have escaped from prison, fully intent on revenge.
Meanwhile, Rainbow and Twilight try to make their relationship work as they face the difficulties of raising a filly together. To accomplish their dream of a happy family, they all must face numerous challenges that will test the strength of their love and friendship.
Chapters (30)