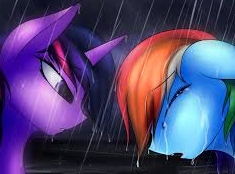 Source
We all have dreams, goals, and ideas. We all want for something, want to ascribe to be something. But… what happens once you've achieved that goal? What do you do if you'll never achieve that goal? If circumstances in life prevent you from ever being able to do the thing you love?
Two ponies, two friends, each have to deal with a different version of that question. But maybe they can find the answer together, and maybe, just maybe, they'll find something else as well.
A cowrite with Moonlit Sparkle. Edited by DeputyDuck and RofLmao.
Chapters (1)