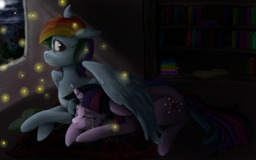 Source
This story is a sequel to TiM: The Light of my Life
---
Story number nine of the Twilight is Magic series. See author notes in first chapter for link to read order.
Taz seeks to understand just who he is and what he is capable of. Of all his friends and family, he is the only earth pony, the only one without magic. Yet is it their magic that defines them, or something else? Something deeper?
With the ability to take away the magic of others, what will he do with this power? Who will he listen too? Who can truly understand what it's like to live around such exceptional ponies when you feel like you have nothing that makes you stand out?
Special thanks to Rain-Shaker and How to be Swag 101 for their help in editing.
Chapters (3)