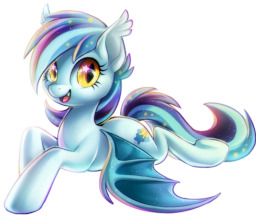 Source
This story is a sequel to TiM: A Shining Light
---
Story number 14 of TwiDash's Twilight is Magic series.
---
Responsibility comes to us all, often when we least expect it. For young Taz and his wife, Nighttide. They were expecting their newly found responsibility. After all, when your wife is pregnant, it's kind of expected.
Still, when the joyous bundle arrives, no pony was expecting their heart to melt the way it did. For when Nightshade's first coos filled the air, the greatest defenders of Equestria found themselves powerless to resist.
The fact that she was born late during Heart's Warming Eve? Well, that was simply a happy coincidence.
As Nightshade makes her first cute steps through the snow, Hearts Warming Eve melts everyponies heart
Chapters (2)