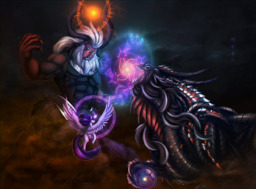 This story is a sequel to TiM: Best of Intentions, Worst of Results
---
Story number five of the Twilight is Magic series. See author notes in first chapter for link to read order.
Ataxia is the daughter of Spike and Rarity. Shimmering Night is the daughter of Rainbow and Twilight. Together they team up to take on Lord Tirek in an attempt to rid Equestria of his evil once and for all. However, does he know something they do not? As two ponies that should not exist, Tirek may know something important about their future. But can they believe anything the silver tongue Tirek has to say?
Cover image Tirek Tastes the Rainbow by Deviant artist Ghostwalker 2061
Thanks to Detoxicity for help on post edits.
Chapters (3)